Its all about me, everyone. Look at me. HEY, LOOK AT ME!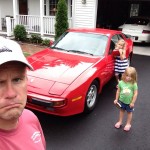 What's The Breakdown Lane? It's pretty much the most common term used around the North East to describe what some people call the "shoulder", or the "emergency lane" along side the highway. You should already know that. Around here in Boston, you don't break down in that lane during commuting hours, that's a no-no. You pull off to the grass or you don't stop unless your car blows up because we drive in that lane. If you do decide to stop, the 55,000,000 people behind you are all going to think the same thing…you're a dick. And for the out of towners giving us dirty looks like we just parked in a handicapped space as we blast by you on the right in between the guard rail only leaving you 4 inches of space? STFU and read the signs, its legal and we need it so we can sit in traffic for 2 1/2 hours in stead of 3 ok?
The BreakdownLane.com is the culmination of all my sarcasm, my automotive vices, and just life itself rolled into one.  I'm a father of three, a brother to four and I'm absolutely obsessed with Porsches. I use the site for fun and to interact with like minded people. I'm not in it for fame, followers or fluff. It's just another way for me to be me. I tried the whole blogging thing a while back, but I took it too seriously and followed too many peoples advice. It was missing one key element: ME. So now I hold my self to no expectations, I don't take my self so seriously and neither should you.
Oh, ya I do Antique Automobile Appraisals too. Of course you would expect a guy like me to throw that out there. So if you or anyone you know needs one jump over to my site massautoappraisals.com
I have been working in the automotive business in one way or another since 1999. Back in the day I spent many of my nights and weekends on test drives and running around a dealership avoiding customers. I was even that JERK who sat in the office and sent the salesmen back and forth and back and forth between the desk and the customer. That was fun. It was also how I got started in the collision industry. I was introduced to the world of auto body shops and I liked it. I went back to school for my MBA, got a job as an accountant, became A CPA and pretty much felt like a four year old at the airport that has to wait 3 1/2 hours until the flight boards. Climbing the walls type boredom. You can only do so many spread sheets in a year until you want to rip your own face off. After much anguish, I bolted. Best thing I ever did.
I'm currently  licensed by the state of Massachusetts as automobile damage appraiser and certified classic and current valuation appraiser. I have written for a local car magazine, driven a couple race cars, run my cars ragged at auto cross events and gone to a couple driving schools. I served in the U.S. Navy for 6 years and worked on weapon systems, traveled the world, and made some incredible friends along the way. It was hard work and I hated life on board ships, but I had it good compared to most of my shipmates and we made the best of it. Honestly, I don't really remember the crappy times, just the good ones. I have a special place in my heart for our military veterans, the men and women who serve today and their families.
So, in continuation if this narcissistic rant, Having a toy is an absolute must for me. I don't care what the budget is, I HAVE TO HAVE ONE. And that can be a problem sometimes, but she'll be fine. She's a trooper, my wife, God bless her. And you know that will turn into I HAVE TO HAVE MORE THAN ONE, so she better be a trooper. I maintain a separate bank account, bury all my receipts and schedule my FedEX deliveries for when she's at work.
My first was 2000 Ninja ZX7-R. What a pig that bike was, I hated it and its ancient chassis. Hardest bike EVER to do a no clutch wheelie on. Traded it for an 01 Ducati ST-4 and if it were reasonable, I would jump in a pool of broken glass for being so stupid as to sell that bike. I needed a house so…stupid priorities. A few years later I conned myself into an 06 Harley-Davidson Sportster 1200 Custom. That was fun for minute. Boredom is my biggest enemy, and that Hog was enemy #1. Plus 90% of the bikes around here are Harley's. Makes me tired just talking about them. You are fully aware where I am going with this one, right? Straight to the cheapest, best looking Porsche I could find, a 1985 Porsche 944.Cant say enough good things about those front engined Porsches. Any one who tells you that it's not a real Porsche can suck a fat one. Four years later in 2013 a little, bright, white angel came from the sky dressed as a 2000 Porsche 911. Que the heavenly music, and open the pearlies,I have made it to the afterlife. No, its not really that special, its 15 years old, its got 50,000 miles, it needs a little suspension love and the price was less than a new Civic. But it's the world to me.
If I ever get a chance to reacquire a car I shouldn't have let go (and I sure hope I do) it will be a 1988-1992 VW GTI 16V (the MkII for you fellow dorks. I know you dubbers hate it when people use the "civillian" terms).  Yup, another bonehead move, sold it to a shipmate in the Navy. The stupid thing has probably been reincarnated as a pack of Gillette Mach 4's. I struggled with letting go of the 944 but after a year of not being used in my in-laws garage (poor me, no two car garage) I decided to do what most noble car guys do; Enjoy it while you have it, and then let someone else do the same when the next one comes along.
And that is exactly what you should do with my posts. Thanks for reading.