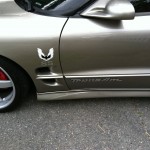 Let's talk about badges for a minute. You might know them as emblems, badges, labels, or whatever but they are on almost every car and it's a way to distinguish various models, trim levels and makes. The badges are how non car people figure out what they are looking at and its how car people figure out what the trim level is of the car they are looking at.  Well, I have a bone to pick with the people out there who simply slap emblems on a car that don't belong there. If you are guilty of doing this, let me be the first to bitch slap you, and here's why.
Recently I was in a parking lot at a strip mall down on the South Shore and there was a fairly nice Mercedes-Benz E class sedan parked next to me. This was just a standard 3.2L six cylindar car, nothing too special other than it's pretty expensive for a mid size sedan. Many of you may have heard of MB's performance group, AMG. The AMG cars are much like a Saleen Mustang or a Yenko Camaro but on a modern, yuppie sedan scale. The AMG's usually have a massive 5.5L high output V8's, a stunning wheel and tire package, body kits, suspension upgrades and many of the AMG's have this faint blue tint on the windows which comes from the factory among many other things. So why on earth would this guy put an "AMG" badge on his base model car? Because he's a wannabe, that's why. Keep me far away from this guy or else I might end up saying something that he may regret.
People, this is a no win situation. Actually its a triple loser because people who know what an AMG really is also know that your car isn't it. People who don't know what an AMG is certainly aren't paying attention to your emblems and have no idea that you are an idiot and lastly, both groups of people probably think you are a loser for trying to make your car something that it's not. Let's take a closer look. To the average person there isn't a real big difference between the two cars below. You'd know it if you saw them up close though. Here we have a standard E320 on the left and then an AMG E55 on the right. The AMG package is considerably more money and the V8 in the E55 is an absolute animal. The car is a sleeper that can roast the tires off the line with no problems whatsoever, corner like a sports car on the track and still look like nothing special dropping off the kids at school.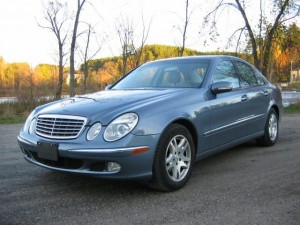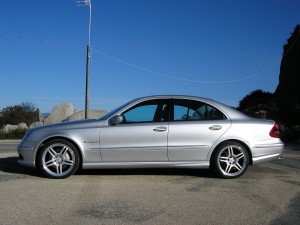 Lets take a look at some more shall we? How about this one? This is actually the inspiration for this whole post. The famous Chevy "SS" badge. The poor double SS's have been whored out to just about every badge swapping moron you can think of. I have even seen a Jeep Grand Cherokee, all blacked out, Jeep badges removed and "SS" badges put in their place. It has to be the most misused and displaced car emblem on the planet. Why on earth would anyone put an "SS" badge on a Trans Am? Seriously, WTF? There is no such thing so just who are you trying to impress here? The Trans Am IS the performance mark for the Firebird so where are you going with this?  "OH, it's one of those really powerful SS Trans Am's, wow, who's the baller rollin' in this massive bird chalk full of awesome?" That's like taking a real SS Chevelle and installing a Firebird "Flaming Chicken" on the hood instead of the fat double white stripes. Firebird wannabe's should be using T/A badges but this just takes stupid to a whole new level. I think my head is about to explode…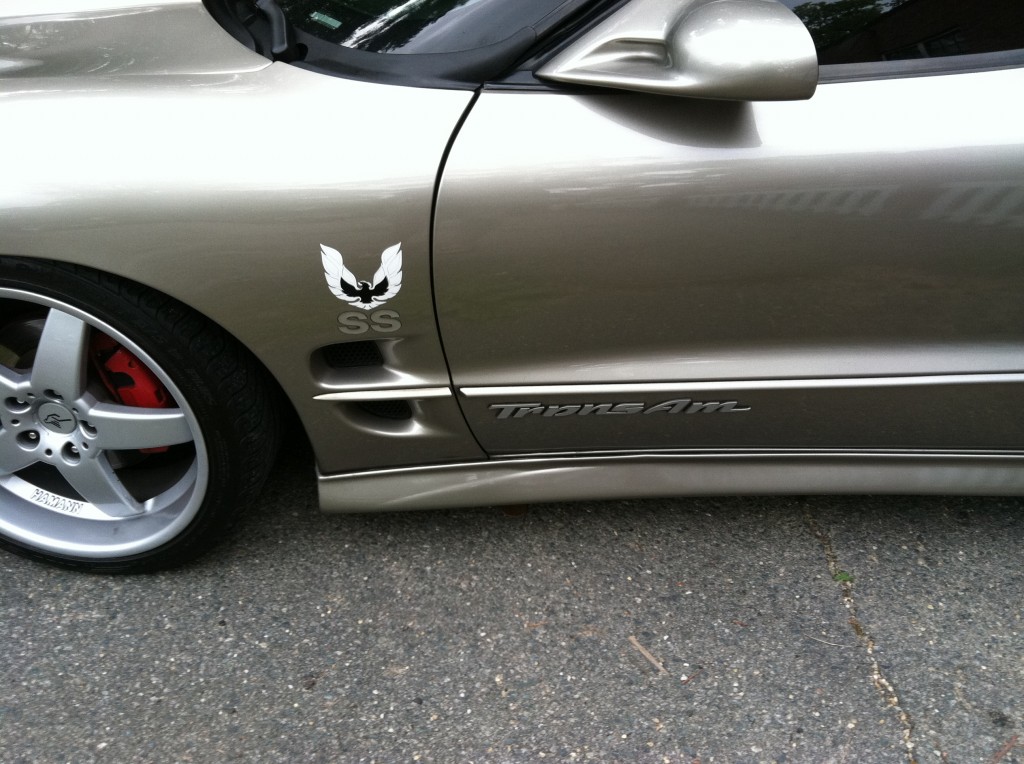 When is the last time you have seen a Mustang GT or a similar car with V6 emblems? Never, that's when. Although I don't mind seeing a car that is completely without emblems. It's a sleek look and a good way to cover up the fact that you have a small motor. It all comes out in the wash though, I'm telling you, just pony up for the real deal or be proud of what you have now.
This is one of my personal favorites right here. I know right off the bat that this guy has the only Porsche in his crowd. A real Porsche fan wouldn't even think about putting these side decals on a Boxster and a real Porsche friend would not have let him do this. Why? Because you would never, ever be able to show your face or your car at a Porsche event. You'd get laughed right out of the park so hard your comb over would be flapping on the other side of your head. Anyone who knows anything about Porsche's knows that the Boxster is a two seater that costs about $50k-ish and it's a drop top touring cruiser. They do well on the track too but this car is sporting the decals from a car that is literally more than double the price of a Boxster and it's a completely different car.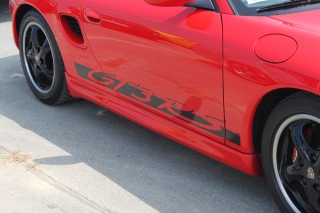 This, my friends, is the real deal GT3 RS. It's a track ready car that costs about $130,000. A GT3RS is what they call a 911 variant. It's lighter, faster, equipped with a roll bar, racing seats,blah blah, wicked fast blah, blah the list goes on and much, much, more than you could ever get into that Boxster. . It's clearly not your hairdressers red Boxster…just sayin.
Now this would have been the same cost, same effort to install and he could roll into anyplace with his head held high. Either one is far better than what he has already.
Yes and what do you get the car guy in your life who already has that $95,000 full size BMW 750iL (The L=Long wheelbase in case you were wondering)? Well a wannabe "///M" badge of course. This is a man that is not satisfied with having the top of the food chain Bimmer. No, he has to take it a step further by slapping that badge on their even though he knows there is no such thing as an "M7″. Again, the BMW crowd would stone this guy if they could get a hold of him, it's considered sacrilegious, a no no and the sign of a true DB. Most people don't give it a glance let alone actually notice it and think to themselves "Whoa, high roller with the M7 huh? This guy must be cooler than the Dos Equis guy". Nope, the only ones that notice are people like me who think "What a jackass, all that money for a car and you still don't have enough status on that thing? You just had to throw a badge you bought on eBay on there? And not even in the right spot?" See what I mean by "no win"? You just can't win here, at least not with me around.
Let's not get this confused with replicas ok? That is a completely different ball game. There are plenty of very nice replicas out there and you can see them selling for big money at the televised auctions like Barrett-Jackson and Mecum. There is no shame in restoring a base model 69 Camaro into a bad ass Yenko or COPO Camaro as long as its done correctly.
Let's not get replica's confused with kit cars. Kit car technology is changing and companies like Smyth Performance and Factory Five have proven that. Heck there are even some real nice Porsche 356 kit cars out there too. But there is a gap there. Kit cars are either very nice or they are hilariously  horrible like this Fiero based Lamborghini Countach kit. Horrible, just horrible. Tubbed wheels and a hood that doesn't close? Ferruccio Lamborghini must be rolling in his grave knowing these things are out there.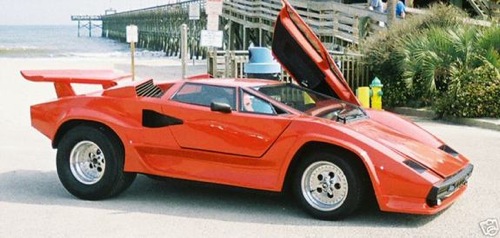 Here are a few more I managed to either snap myself out on the road or scavenge from the internet. Send me pics of your favorite fake badged cars and I'll add them to the gallery!