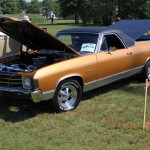 I finally found the time to upload a ton of pics from some of the shows I have been covering over the last few weeks. One of my favorites was the Marion Classic held right next to the ocean down in Marion. See the full gallery here to see the full spread. There were some really nice T-Birds, a gorgeous Austin- Healy 3000, a 1924 School Bus that has spent is entire life on the Cape, and impressive Buick convertible from the early 50's and many other very nice cars. I really enjoyed the chocolate brown MGA and the '47 Dodge pick up in particular. But the car I'd most like to drive, even just for a few minutes was the Mini Clubman that had a Honda Civic Si transplant. It's one of those odd ball cars you just can't stop looking at. The owner did a fantastic job with the swap, it looks like it belongs there and the Miata seats he had recovered and installed were just perfect.
Later that same weekend I was able to pop into the United Charity Auto show sponsored by I don't know how many clubs and businesses including Driven Perfection Auto Detailing of  Weymouth, Boomer's of Weymouth and held at Toyota of Braintree thanks to the owners, the Tufankjian family. The local Scion club dominating the space but the MassPerformance had a very nice showing. Factory Collision of Weymouth was in thehouse too with a huge fleet of cool rides like this bad ass Chevelle.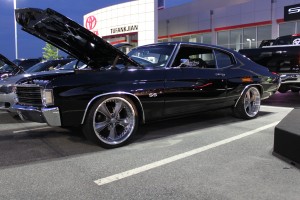 I  think the jet black shaved 55 chevy 2 door was my favorite ride of the whole show.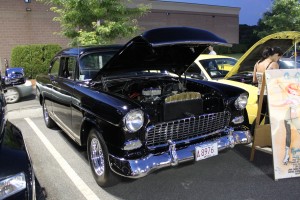 See the full gallery of tuners, low riders, muscle cars and customized scions here.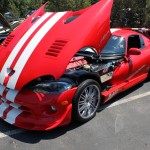 Last but certainly not least was the Summer Send Off Show in Rockland. This was largely a tuner event with no shortage of "lambo" scissor door kits crazy paint jobs and even crazier custom Audio/Video installations. Now I am a car guy through and through so I can appraciate this stuff, but at the same time, my heart lies with cars of the 80's and older. I can understand why this show wasn't really a huge hit with spectators. I'm not trying to say this wasn't a good show, but there is always room for improvement. My first complaint is not only was there a DJ there, but at least 60% of the show cars were trying to impress with how loud and bumping their systems are, so it made it very difficult to even approach these cars let alone talk about them. I was pressed for time and I had my camera, a double stroller and 3 little kids to try to manage, so the music was a big problem for my little ones, and in turn I only got a few pics. Spectator parking was a total cluster and they were charging admission to a show that was in a bad location and spectator turn out seemed pretty low. This was one of those shows that was more for the entrants that it was the public.
That being said there was some really cool cars there, like the air bagged Caprice, the Viper, some pretty cool WRX's and much more. I saw euro tuners, JDM  tuners, American muscle and some really off the charts customization. I love this stuff, really I do. There was even a guy there that had THE most chromed out and customized Hyundai Elantra GT, yes the four door hatch. I must admit, this was a first for me. Unfortunately, I couldn't get any pics of this car as the 50 something year old owner was all over this thing at the time and I wasn't about to ask him to turn down his Boyz II Men jam in fear that I might cost him some cool points. Check out the full gallery here