I tend to be a bit on the slow side getting pics up from the shows but like I said before, better late then never.  I loaded the Spindles Gallery to facebook but never got it up on The BDL, so if you missed the massive Spindles Annual Car Show in Marshfield over the Labor Day weekend, here's your chance to check out the great cars that were there. This was one of the few shows that I attended alone, as in no rug rats, so I was able to get  a lot of shots. Here are a few from the collection. I think the judges had it all wrong over there. It must have been the tremendous heat clouding their judgement because anyone can clearly see that this mid 90's shorty caravan/voyager should have won best in show. It must have taken at least 45 minutes and about $175 in stick on scoops and vents to turn this grocery grabber into a show stopper, right? This thing was a rolling Autozone accessory display. I really wanted to sit in it and feel the plush fabric and imagine just how much tail I could chase off crusin the beach.  I was sadly disappointed because there was a massive "Look but don't touch" sign on it, ah the life of a true show car. I hope the owner gets her out for a drive every once in a while, it'd be shame to let such a piece of automotive history go to waste. See the full gallery here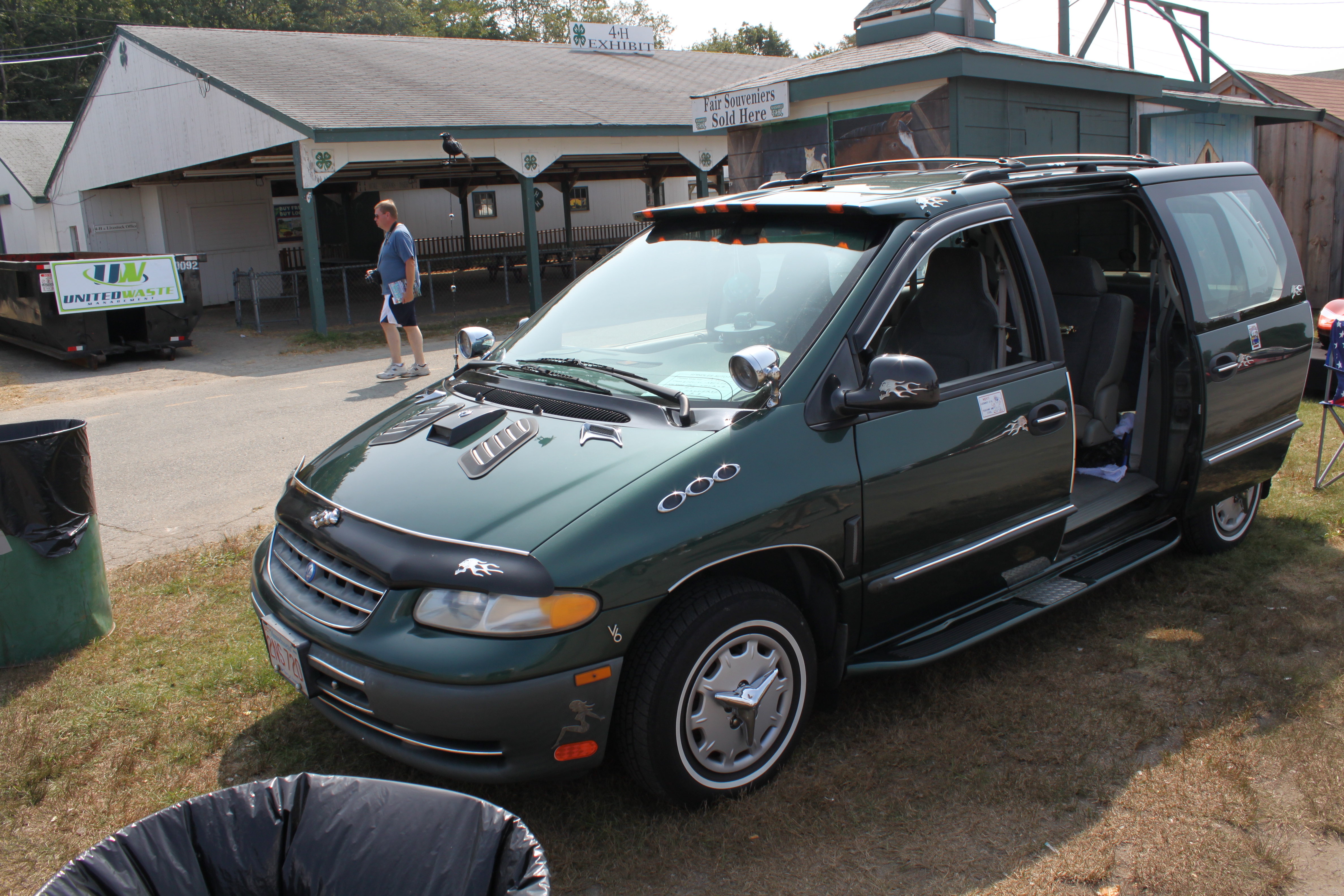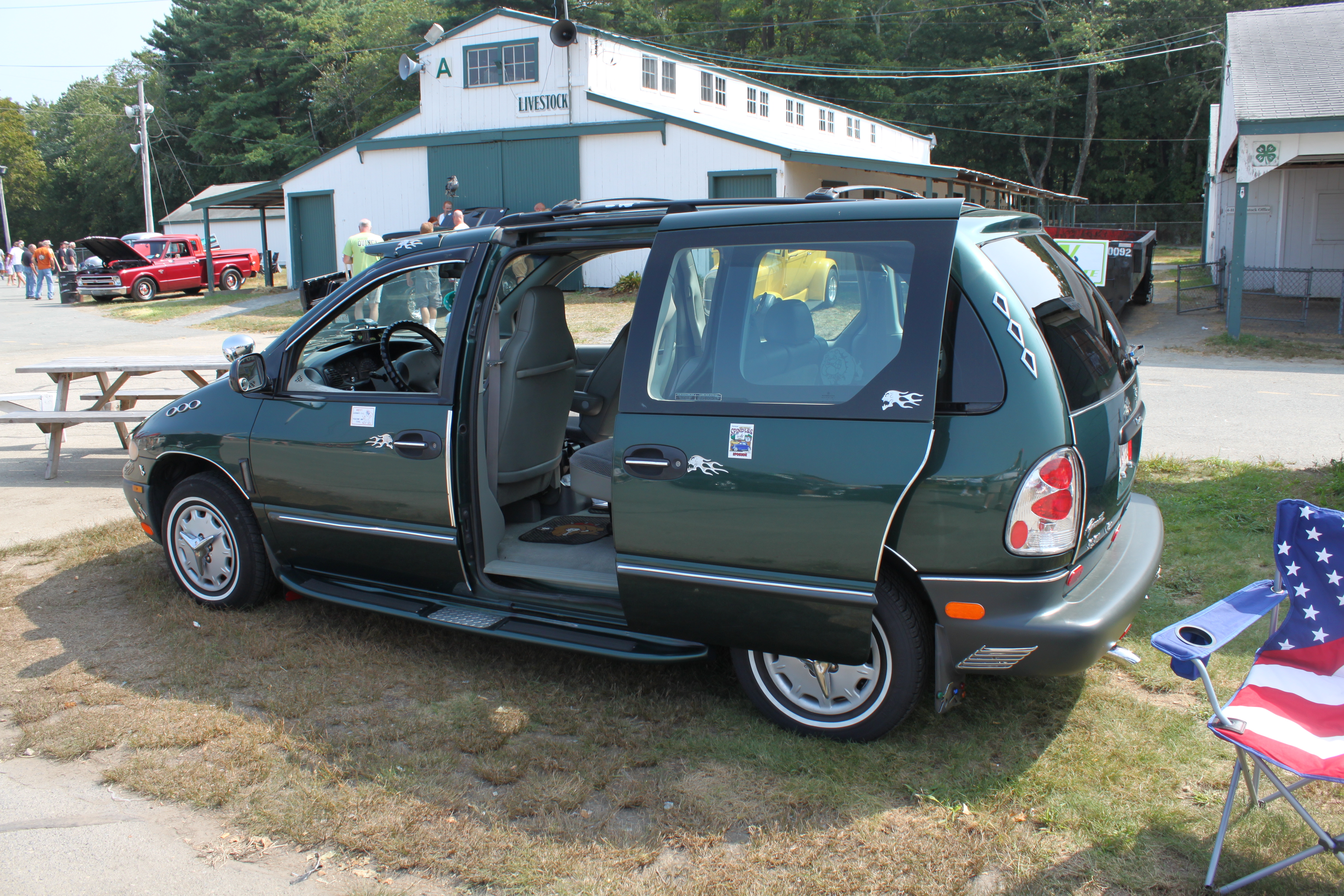 The following weekend the Larz Anderson and the Porsche Club of America's NE Region was host to an annual Porsche Day including a Concours Show and a Driver Show. As many of you already know this is my niche and this year was a pretty good turn out. There were a few surprises for me and a few dissapointments. Let me get the bad out of the way first. In years past for most of the Lawn Events at the Larz parking has always been a pain in the ass, but this year it was really bad. Normally all the spectators who drive cars in line with the show's theme are allowed to park on display in the grass next to the show field and this year they took that away. Not only did they take that away, they also did not allow cars to park along the drive nor on the grass behind the facility. Just to make sure that they really aggrivated everyone properly, the show staff was forced to constantly announce license plate numbers of cars that were being threatened with a tow. Now imagine yourself with a 5 year old, a camera bag, a cooler and two chairs lumbering all the way down to the show field just to discover that you have to go all the way back and hunt for a new spot. I was not happy about this. The funniest part of all this is that the Larz or the show organizers all have a different take on what is allowed and what is not. I really thing they should adpot a widespread parking policy and stick to it for all shows. Ok, I'm done with my rant!
It turns out I had some 944 forum buddies show up from afar so it was great to catch up with them. Even more to my surprise was that I had two family members on the show field. Two of my cousin's husbands had their cars all shined up and in the show, actually one of them was in the show because it was easier to pay the $20 show fee than try to find a parking spot.  That would be Carl in his 2011 Carerra GTS coupe in white. I really love the old school black stone guards on the rear quarters, it's a throw back to the old Turbo's in the 80's.  The other relative had his gorgeous 356 coupe in silver, what a car. After my son and I had been all "Porsche'd" out we stopped by Ferrari Maserati of New England for a little show they were having. By the time we arrived it was pretty much over but we did get a chance to see a few cool cars. See the full PorscheFest gallery here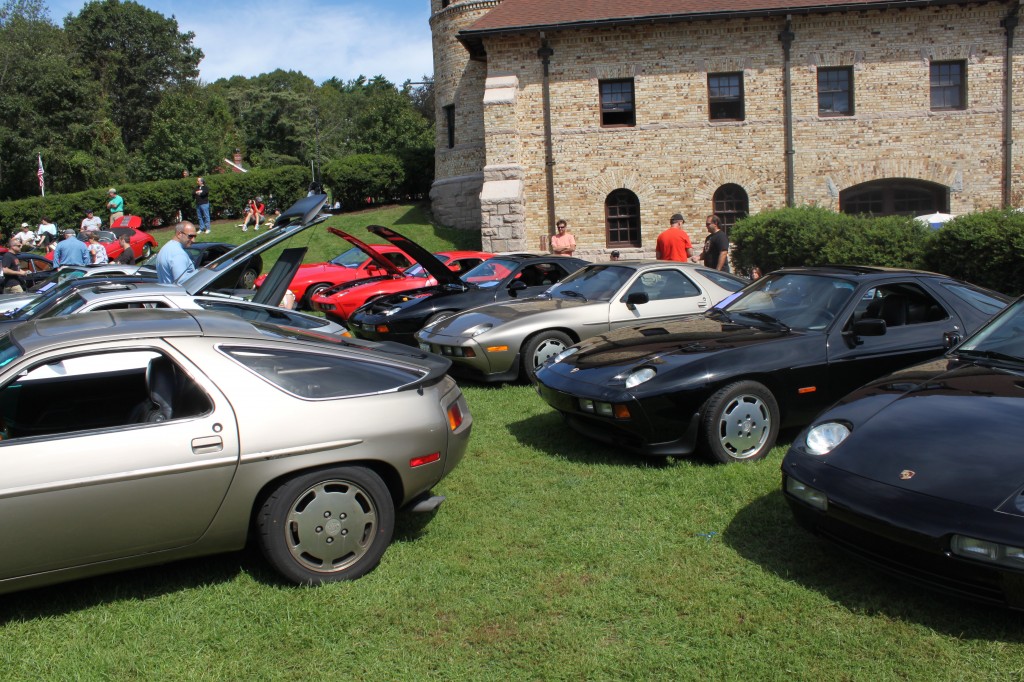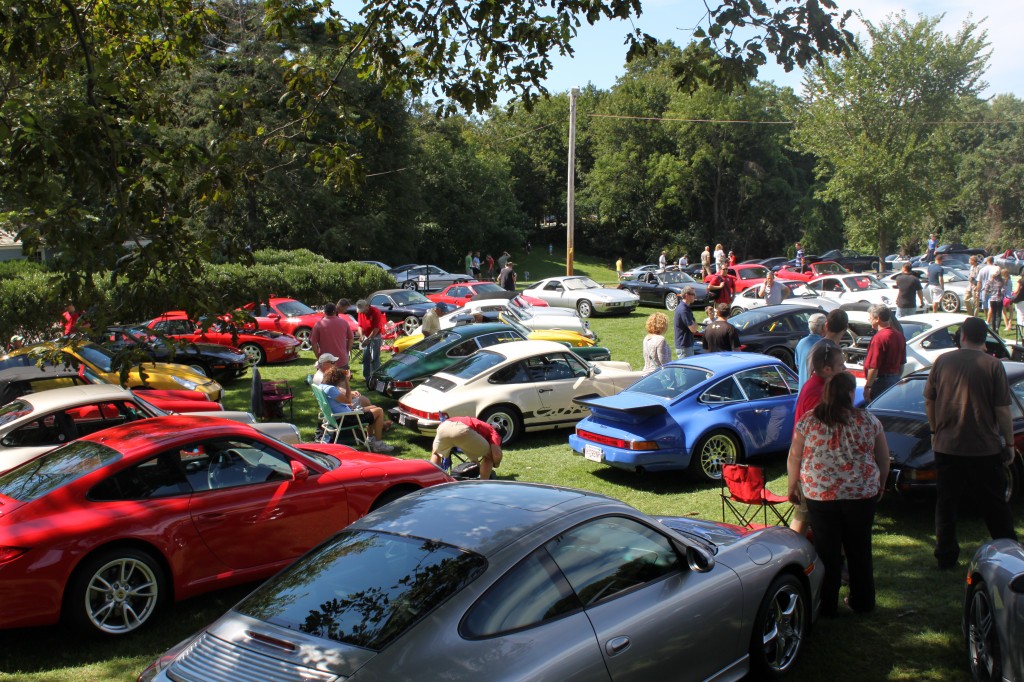 Back on Sunday the 18th I attended Cars & Copters down at the Plymouth Municipal Airport. The show had some really great sponsors like my detailer Driven Perfection Auto Deatailing of Weymouth, Kaizen Tuning, The Larz Anderson Auto Museum, Boston Coach & Limo and a few more. It was nice to see some vendors set up instead of just the normal hot dog cart. There was a dunk tank, DJ booth and of course food! I was there both on business and pleasure, my three and four year olds were with me so I was fairly limited on the photos. Adding to the challenge of taking good car pics at a car show were both foot and vehicular traffic, while trying to make sure my kids did't get lost or run over. It can get frustrating, but one of the reasons this show is such a big hit, and it was  BIG HIT, is because there is very little exclusion. I pulled into spectator parking in the 944 and they insisted I park on the show field, I like that. There was a feeling that we all belonged there regardless of what we roll in, so I'll deal with the field traffic any day, rather than sitting in a quiet field of trailer queens that my car will never measure up to.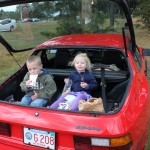 After having a small picnic in the hatch of the 944 I toook the kids over to the copters and they loved it. My son would like the red four seater when he gets older…just sayin. I was tempted to shell out the $50 per head for a helo ride but I opted out. I was a little disorganized and managed to miss quite a few cars. I heard about a guy who had an incredible wide bodied rabbit pickup with a…wait for it…wait for it  – 500+ cubic inch caddy motor mounted in the BED. No you are not seeing things, you did just read that or as Ricky Bobby would say "That Just Happend!" Here are a few pics from the show. You just never know what you might see there.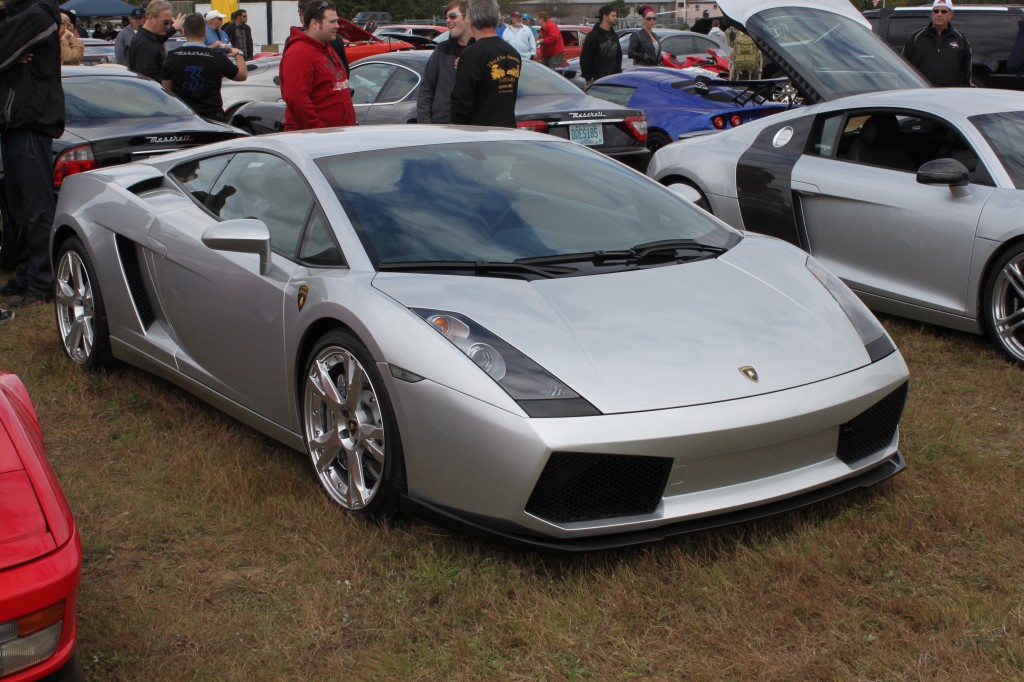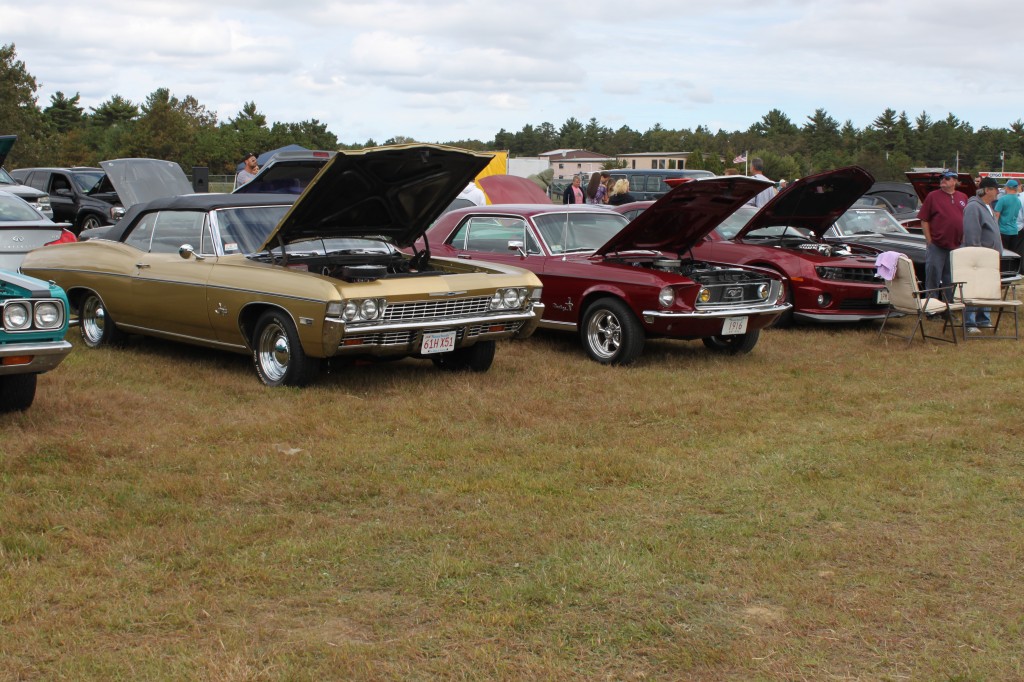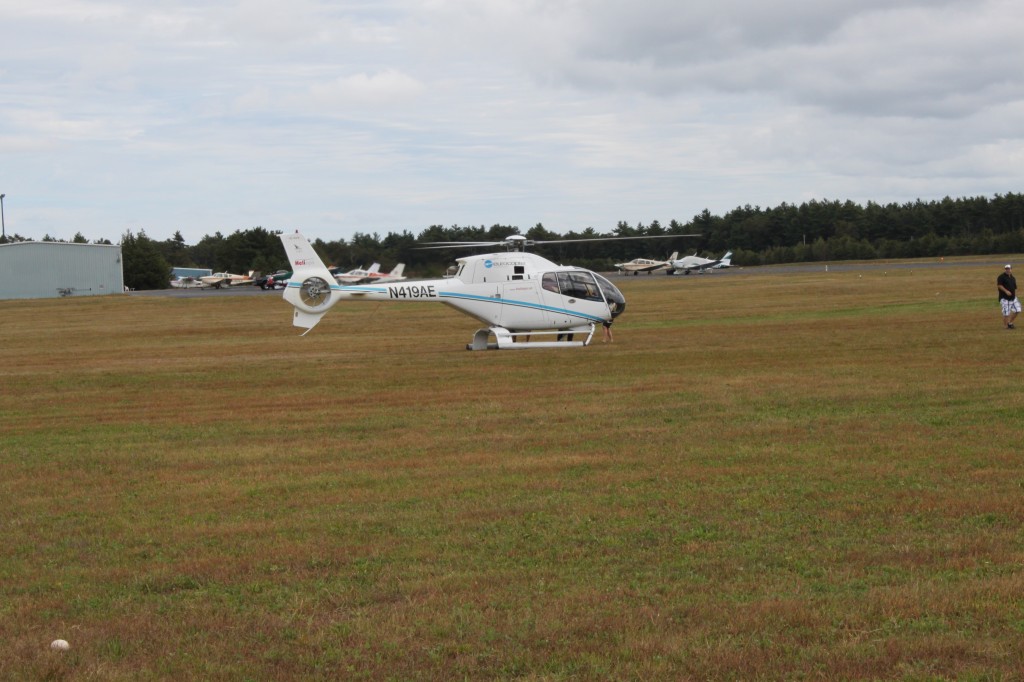 The show did not finish without its fair share of problems. I mentioned the traffic in and around the field was crazy and I feel like that is a bit of a problem for people like me who bring little kids to the shows but that wasn't the real problem. Unfortunately for Yuppie Racing and this great show they put on, next year's show is in jeopardy all because of a few knuckleheads. All it takes is one jackass to do a burnout or some other show of how much time and money he's dumped into his ride and don't you know all the donkey's in the crowd follow suit. Since there are businesses on that road cops at every corner it doesn't take long before some crusty official catches wind of this stuff. That's just how it happened too. So even though we are all impressed with your display of horsepower and torque while we watch you dump the clutch out of the gates, we aren't actually standing there thinking how cool you are or how full of awesome your car is. No, actually we are saying to each other "What moron that guy is, he's going to get in trouble and ruin this great event for the rest of us"
So congratulations to the Jackasses and Donkey's out there. If we are lucky enough to have a show again next year we will be thanking you for creating a whole new realm of red tape for the YR crew to have to cut through to pull it off.  I enjoy a nice burnout or drift like the next guy, but in the right setting. The Summer Nationals has to have permits for a burnout pit and I think there is an obvious need for such a show. Hmmmm, lets think about that for next summer. Check out the Cars & Copters Gallery here or see the pics below.
Enjoy the pics, and as I have said in my galleries before – I'm not a photographer, I'm a hack with a nice camera!