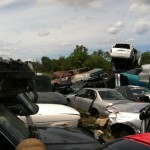 After a little R&R cruising on Mousam Lake in Maine this past week  I went out to a junkyard in Brockton to try and track down a headlight assembly for my elderly parents' 2001 Lincoln Town Car, it has the old "yellow haze" syndrome making night driving far more challenging than it needs to be for a bickering couple in their 70's. They drove up form Florida and I want to send them back with a nice new clean one. Unfortunately the one and only Town Car they had there was bottomed out in a mud pit and the headlight was worse than the one I want to replace, so I decided to have look around.
I have seen plenty of junkyard pics from various car bloogers and much to my disappointment, pick and pay junkyards are just not that exciting here. There are no lost hot rods, led sleds or just plain cool old cars laying around like there is out on the west coast or desert area. What did I find? I found a crap load of 80's BMW 5 series and Mercedes E Class sedans  like this one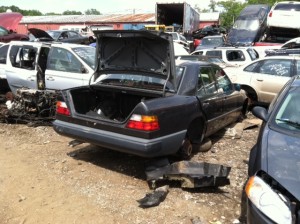 peppered about in a smelly mud pit of totaled out Japanese and American cars. I shouldn't be surprised at all and I'm not. I was just hoping to see something interesting.
All I could find was a late 60's Caddy and a Nova II. The nova looked like it was an abandoned project gone wrong, we all have seen those haven't we. If you look real close you can see it in the thumbnail pic at the top of this article sitting on top of about 4 other cars. The Caddy on the other hand looked a little like it had suffered one final blow that put its fate in the hands of the impending crusher. There was an early 70's GM truck and a bright orange 72 Cutlass that were both complete and for sale.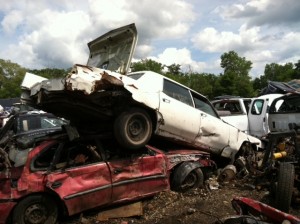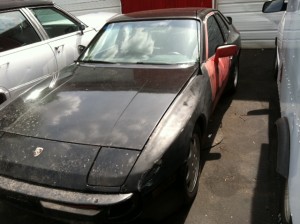 And then I found a car I would like to have as a parts car or weekend racer. It was an 83 Porsche 944 that had updated wheels from an early 90's 944. There really wasn't anything on the car I needed, the seats were ripped and the dash is the early dash model and wouldn't do any good in my 85.
So it was a bitter sweet trip, I'm on a quest to find a junkyard that has some decent time capsules in it. I can tell you that from all the preparing I have been doing for my the next cog in my little automotive business that I will find some real gems around here. If any of you readers out there know of a good one, I'd love to hear about it.