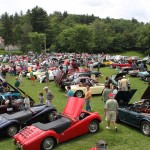 The more I track these car events the more events I find. This weekend was no exception. There was a time when I truly thought there was a serious lack of car culture around here and I am glad to report that I was terribly mistaken. Saturday started off pretty gloomy down here on the South Shore but I decided to make the best of it. My 3 year and 4 year olds wanted to go for a blast in the 944 so I buckled them in and headed off to a new show; The Preferred Tire & Auto Show & Benefit located at Autozone on Rt. 53 in Weymouth. I spent about 45 min checking out the cars and snapping pics before it was time to move on. The attendance turnout was a little low in the morning; there were about 15 cars there when I arrived around 10:30.  I think it's because this is a new show this year coupled with the fact that the weather wasn't all that promising and there are quite a few others shows to compete with. The show's creator and host, Dean Carlton from Preferred Tire & Auto (Preferred511.com), had his impressive collection of all black rides on display including a beautiful 1969 Camaro RS Z/28, a fairly young BMW M6 sporting a V-10 power plant, an early Monte Carlo, an F-150 Lightning and an H2 Hummer. Dean was happy with the results and plans to do the show again next year. Dean's mission is accomplished as he managed to raise a few hundred dollars for the Cub Scout Pack 11 of Abington (abingtonscouts.com) and The Weymouth Elder Services so congrats to Dean for that, I'll definitely be at his next show.
In the midst of my A.D.D fueled rush with the kids I failed to get any more names from people but one PT&A employee had a nicely done 2010 Camaro SS in Orange, the kids loved it. Then the Boss Hogg's evil twin showed up in a plum colored '66 Caddy convertible rolling on 22' wire dubs, and I gotta tell you, this thing was hot. I could fit my whole family in that car and cruise all day long turning heads at every corner, I loved it.  I have to give a shout out to the survivor of the bunch, a '68 Riviera that was all original and has stayed in the same family its entire life. I love the stories that most of these cars carry with them, they make the cars that much more interesting.
See the full gallery from this show here.
Since Saturday was a one show day for me I decided to ditch the kids and hit a few shows on Sunday. My first stop was right around the corner from my house in Norwell. The Recession Car Show with a car entry fee of just $5.99 sponsored by Import Evolution and Driven Perfection Auto Detailing in Weymouth was held in Accord Park behind Porsche of Norwell in the parking lot of the Theatre Company.
This was a change of pace for me as of lately and I like that. The tuners came out in force, domestics, Euro's and Japanese cars all side by side. There were even a couple hot rods hanging out as well. I liked the mix of genres and the mix of people; this was a diverse crowd of cars and owners. The BMW M3's and Porsche 911 Turbos (well one was a limited edition GT2RS, one of only 500 for 2011) were standing tall amongst the Audi's and VW's but one car was particularly interesting.
It was an Acura TL with a Mercedes S500 nose, grill and headlamps. Very clever, you know what they say…"Fake it till you make it", right? Although it may invoke some emotion among purists, I have to admit it takes some talent to install in such a quality fashion and it works on that car. At least it's different and grabs your attention, and that is the whole point. The "Mercedura" as I called it had some serious "hella flush" neighbors, a slammed Lexus LS400 on one side and an equally lowered and negative cambered Lexus GS sedan, I can only assume it was a GS400 but I didn't check.  And of course I have to mention the Avalanche with the Lambo doors owned by Kevin O'Connel the host of another new show for 2011; Cars for Canines in Randolph.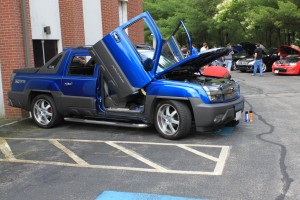 This truck has been meticulously cared for and Kevin has done a very nice job with his mods. I swear I'm going to actually meet him in person one of these days instead of maintaining a "Facebook only" friendship. At that point it was time for me to hit the road; I was having old euro car withdrawals and my fix was about 30 min away. See the full gallery from this how here.
I was anxious to get on the road to a place I really, really love: The Larz Anderson Auto Museum in Brookline, MA.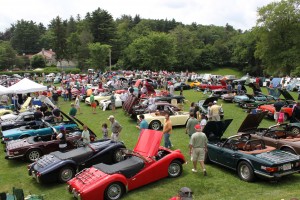 If you haven't heard of the Larz, you need to check this place out. They host what they call "Lawn Events" during the summers that are geared towards specific makes, genres or countries of origin such as Micro Mini Car Day, Corvette Day or German Car Day, one of my all time favorites. This past Sunday was a big day at the Larz as it was British car day. The weather was perfect and there was an excellent turnout of cars. The brand new Aston Matins were on display including the new Rapide but the really great stuff was further down the lawn.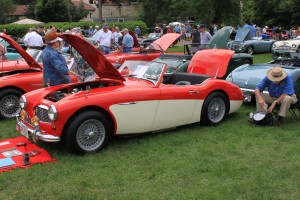 The largest makes in attendance were Mini, Rover, Jaguar, Triumph, Austin Healy, MG, Sunbeam, Rolls Royce and TVR, but there were a handful of other stragglers like Bentley and even a Nash Healy.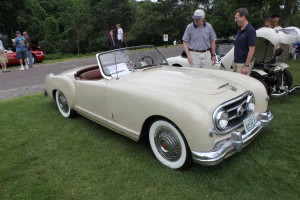 The Larz Anderson shows are always very consistent in that they attract a lot of unique cars so there is never a disappointment. It's a casual atmosphere and they welcome cars of any condition, this is not a Concours event, it's a place to show off what you have be it a barn find or a museum piece and it's a great facility. Speaking of which, when you go (because you really should go!) take a break from the heat and check out the collection inside the museum. The main floor hosts a frequently rotating display of interesting cars and the basement level holds the museums preserved and un-restored, pre-war collection.  Check out the full Photo Gallery from this show here